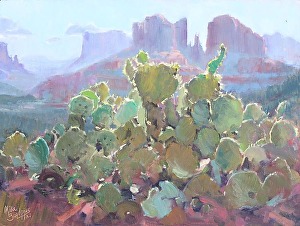 This collection contains paintings or small studies painted outdoors on site in an alla prima (wet into wet paint) manner without the use of photography. The painting noted on the title page was painted during the 2012 Sedona Plein Air Invitational in Sedona, Arizona. It is an early morning vew through the cactus of Cathedral Rocks from the north.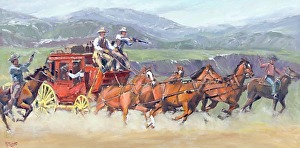 This collection contains paintings created in the studio with or without the use of photography. Most of these paintings were painted from plein air studies using photography only as a reference to the original scene. The western theme paintings were created from photography with many plein air studies providing the background to the painting.

The painting shown on this collections title page is a studio painting of one of my favorite western subjects!
This collection contains studio paintings that range from portraiture and model studies to figures in the landscape. They were created from photography and posing models or a combination. The painting shown on the title page is a live model study painted in Sacramento.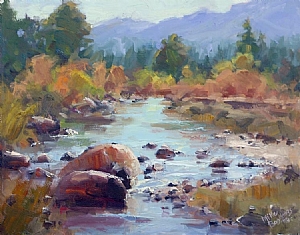 This is a plein air painting demonstration in one of my favorite painting locations in Hope Valley in the Sierra Nevada mountains south of Lake Tahoe, California. I've chosen this for my demonstration because of the back lit nature of most of the larger masses. I usually paint "en plein air" facing the sun with a large brim hat to shade my face and keeping my palette and painting surface in the shade. I've gone in this direction due to numerous mishaps using an umbrella to shade the canvas and palette.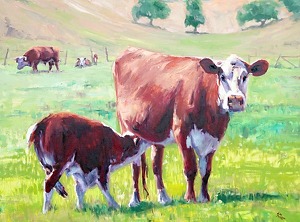 This is a demonstration of a large Studio painting done from digital images, sketches and prior oil paintings by this artist.  This painting was undertaken to test the results of using transparent washes to create an abundance of bright color near and in the focal area of the painting.
NOTE: Make sure you use the larger images and not just view the thumbnails.  The larger images reveal my thought process with
              regard to each step.  Once in the larger images you can easily move on to the next step or go back to review a prior step.
CURRENTLY UNDER CONSTRUCTION