« Mike Bagdonas PaintAmerica Signature Society Selection | Main | Plein Air Study To Studio Painting »
Mike and his wife, Diane, travelled to Europe in May and June 2011. They travelled by Eurrail pass in France, Italy and Switzerland during this 33 day trip. Mike did not paint during the first two weeks in France but did paint "en pleir air" in Italy and Switzerland. However, lots of photographes were taken throughout the trip. There simply was to much to see to paint in France this trip!
FRANCE
The trip started in Paris, France with Museum tours of The Louvre and D'Orsay, plus a Seine River tour, a Paris City tour, an Eiffel Tower tour and more. The D'Orsay had a magnificent show on the great impresionist: Edouard Manet, plus many other paintings of the impressionists. Mikes favorite painting was Manets painting entitled "Berth Morisot in Black Hat". Mike has seen this painting in many books regarding the imprssionists but seeing the original was a lifetime experience!
Then it was off to Caen, France and a tour of the Normandie War Memorial of the Caen Museum near the battlefields. This tour was something that everyone should see. It was the most powerful historical review Mike had ever seen of the first half of the twentieth century and especially the two world wars.
After leaving Caen, Mike and Diane travelled by train to the Provence Region of southern France. The first stop was at Avignon, France with a seven day stay in the ancient walled city near the Palace of The Popes where the Popes resided during a nearly hundred year period in the 13th and 14th centuries. Numerous other cities were visited during this stay including Gordes, Rossillon, Arles and on the way to Italy a stop in Nice. Again, there was just to much to see to paint.
ITALY
Mike and Diane then travelled to Lake Como, Italy. At this point Mike was starving for a painting session and finally started painting. Mike painted "en plein air" at various locations along the shores of Lake Como which is absolutely magnificent! They also visited a number of small cities during their stay on Lake Como including Mezzegra (their hotel was here), Menaggio, Bellagio, Varenna, Lenno and Tremezzo and the city of Como. Mikes favorite painting at Lake Como noted below was "Pescallo Sailboats" painted near Bellagio on a fine sunny day in this little fishing village.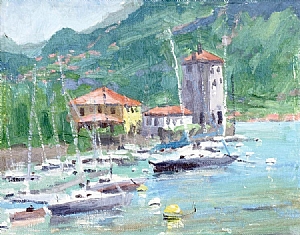 NOTE: Visit Mikes plein air section to view his plein air paintings at Lake Como.
SWITZERLAND
Mike and Diane then travelled to Interlaken, Switzerland for the remainder of their trip. This is a beautiful city in the heart of Switzerland between two beautiful lakes: Brienz and Thun. Their stay in Interlaken was hindered by poor weather but Mike painted several paintings when not touring the countryside. Among the highlights of their trip was a train ride up to the Jungfrauhoch near the top of the Swiss-Alps. Unfortunately, it was snowing at the top so the fantastic advertised view was hidden by snow. Oh well, it was beautiful anyway. Mike and Diane also travelled to Bern, the capital of Switzerland and toured its many museums and Lucern, another very picturesque walled city. Mikes plein air painting entitled, "Seeburg Hotel View" is a view of Lake Brienz from the private deck outside their hotel room.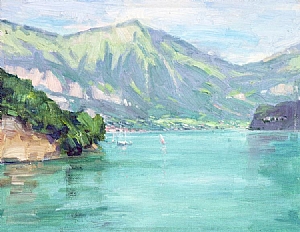 NOTE: Visit Mikes plein air section to view his plein air paintings in Switzerland.
Comments