Show Blog Widgets
Mike Completes First Large Triptych


Garrapata View
Mike completed his first large Triptych and also the largest painting ever when taking all three panels together. The triptych consists of three 30" x 30" canvases and depicts one on Mikes favorite California coastal areas between Carmel and Big Sur along Highway One in Garrapata State Park. Mike has painted numerous plein air paintings in the vicinity and found a pull-out along Highway One that afforded this view looking north along the coast. He decided that this was the view he wanted to undertake his first large triptych (See photograph below).

Mike began the process for this painting by doing numerous thumbnail graphite sketches until he found what he believed would be the best composition for this triptych. These sketches consisted of 1/3 sections that could each stand alone with regard to focal areas and design but would also fit together in the triptych with a primary focal area that would be stronger in the middle panel of the triptych.

Mike then completed a plein air study consisting of the left and middle panels of the triptych on a 12" x 24" canvas panel. This plein air study is the smaller painting to the right of the digiotal image shown below. Mike also completed a second study of this scene that made up the right panel of the triptych scene (Mike could not find a panel that was wide enough to fit his plein air equipment so he made due with the 12 x 24" canvas panel noted above and the additional 12 x 12" panel).

Mike then began the triptych in his studio with all of this material in his possession. Why three 30 x 30 " canvases and not something bigger or smaller? Mike said he just felt confortable with that size because he has done 30" x 30" squares before that resulted in quality studio paintings. Additionally, his studio easels would allow him to place three panels of this size on separate easels side by side so he could work on all three at the same time or separately as needed to ensure continuity between the panels.

Mike used a red/green complimentary palette to complete this painting. He felt that this palette would best show the image and ensure that color would flow smoothly throughout this very wide image. His palette consisted of the following colors: warm compliments: Cadmium Red Light and Cinnebar Green Light extra; Neutral compliments: Bright Green and Cadmium Red Dark; cool compliments: Quinacridone Violet and PhathloTurquoise Blue; and , earth tone compliments: Burnt Sienna and Green Earth. Additionally, Mike used Titanium White and Ivory Black to gray, lighten or darken the colors and values as needed. Mike believes that this relatively limited palette worked successfully for this large triptych painting. Even the light colors of the rock formations were done with white and a varying small amounts of Cad red light and Cinnebar green light extra.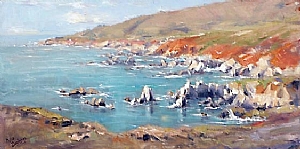 Digital Photo 12 x 24" Plein Air Study