Show Blog Widgets
DOUBLE WIN FOR MIKE AT 2009 ESTES PARK PLEIN AIR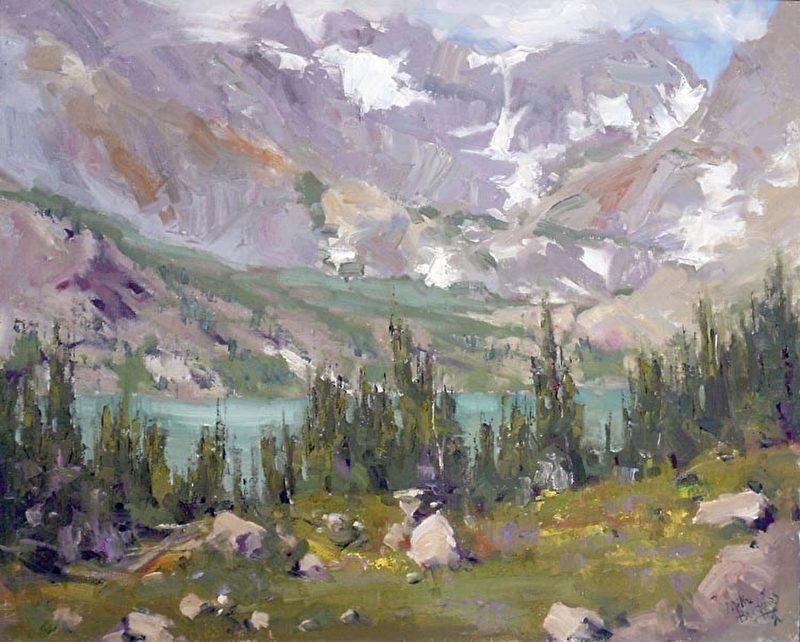 Trail To Isabelle Lake

Mike came up with two ribbons at this years Estes Park International Plein Air event in the Rocky Mountains of Colorado. Mike won the Manny's of Denver's Award of Merit for his small 8" x 8" plein air study entitled, "Noon Reflections at Nymph lake". This painting depicted just a few of the hundreds of water lilies at this small Rocky Mountain Nat'l Park lake a 1/2 mile above above the Bear Lake trailhead. He also won the coveted Emerson Frames Artist Choice Award through the Cultural Arts Council of Estes Park for his plein air painting, "Trail To Isabelle Lake".

Mike is particularly proud of this award as this painting was done under relatively tough conditions near the tree line at approximately 11,000' elevation in the Indian Peaks Wilderness. Mike's wife, Diane, hiked with him to this location and dutifully held the umbrella as wind and rain pelted his position overlooking the lake. Mike and his wife hiked every other day this year instead of Mike painting each day. Three days before the "Trail To isabelle lake" painting, he and Diane had completed the 3 1/2 mile hike to the falls behind Isabelle lake and on the return hike Mike spotted the location of this painting and vowed to return. The view reminded him of some of Edgar Payne's beautiful Sierra Nevada mountain paintings of glacial lakes and was to beautiful to pass up! Three days later he and Diane returned and he completed the painting as rain and heavy wind began to pick up tempo. The painting was done on a 16" x 20" linen panel. A palette knife was used for most of the mountains as well as the foreground trees. Mike had purchased a 16" x 20" panel carrier several years ago and finally put it to good use.

Mike said that to receive the Artists Choice Award for this painting was like receiving validation for nearly twenty years of hard work and study to get to this point in his artistic development. That validation was given by some truly gifted plein air artists who confirmed Mike's personal feelings about this painting.