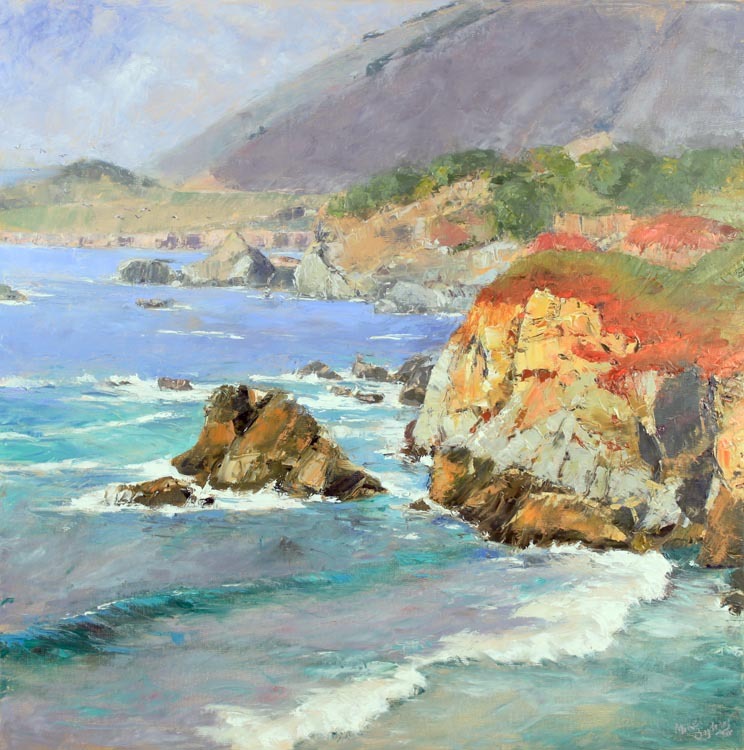 From The Mountains To The Sea
Studio and Outdoor (Plein Air) Work

Mike is an "alla prima" ( wet into wet paint) oil painter who regularly paints landscapes primarily from plein air studies and western themed oil paintings in his studio in the Sierra foothills of Northern California. His favorite painting locations are in the beautiful mountains of California as well as the awe-inspiring Northern California coast above Big Sur. The painting shown above is a studio painting using a palette knife only and using a prior plein air painting and digital images for reference. The abstract movements of the palette knife add another dimension to this painting, one that couldn't have been accomplished with a brush. Mike's palette knife work "en plein air" was featured in an article entitled, "Effective Use of the Expressive Palette Knife" in the August/September 2013 issue of Plein Air Magazine ( Click here to read this article).
Mike has won many awards and honors in National and International level art competitions. He was the Regional Winner of Region 3 in the 2010 National Paint The Parks Top 100 Competition and has received several "Artist Choice" awards in International level plein air competitions. He has also shown his paintings in many prestigious group shows in Museums and quality art galleries throughout the United States. Mike has an affinity for painting images of working cowboys and their favorite animals: Horses and Cows. He does not know where this came from but recalls his childhood when he loved all of those old westerns with some of the greatest cowboys ever: Roy Rogers, Gene Autry, Hoppalong Cassidy and the Lone Ranger and Tonto.
Mike is currently represented by the prestigious New Masters Gallery in Carmel, CA
Upcoming 2015 Art Events:
Half Day Workshops covering all facets of oil painting in Mikes studio in Placerville, CA. Check the Events section or contact Mike directly at (530) 417-0381 for more specific information on these workshops.
Oil Painters of America's 2015 National Juried Exhibition of Traditional Oils at Cutter & Cutter Fine Art ( at their Brilliance in Color Gallery), St Augustine, Florida
from May 1, 2015 through May 25, 2015.
Three Day Studio Alla Prima Oil Landscape Workshop through the Folsom Arts Association in Folsom, CA from June 5 through June 7, 2015
Complimentary Color Demonstration for the Folsom Arts Association at The Gallery at 48 Natoma, Folsom, CA. on July 16, 2015.